Wasp nest removal in St. Petersburg can be very hazardous and is best left to our professionals.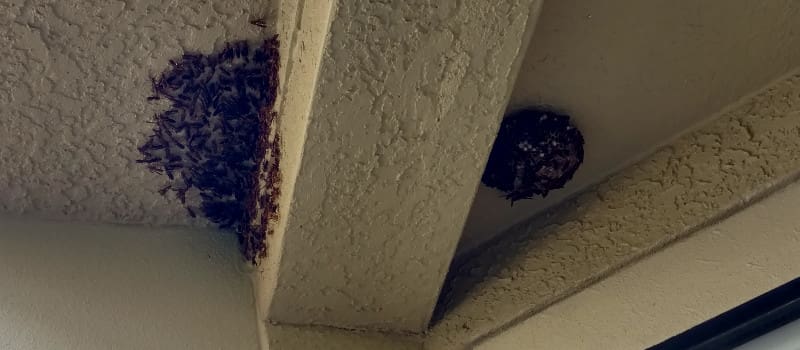 Wasp Nest Removal in St. Petersburg – Dealing with a wasp nest is never a pleasant task, and it can actually be a life-threatening situation if not handled properly. Rather than take a chance like that at your St. Petersburg, Florida property, leave the wasp nest removal to our professionals at BeeMan Stan.
There are two things that make wasp nest removal tricky. One is that wasp colonies are highly defensive, and if just one is provoked, it releases a pheromone that sounds the alarm so an attack could be a likely outcome. The second problem is that, depending on the type of wasp and the size of the colony, that could mean an attack by more than 10,000 wasps. Even if you do not have an allergy to wasp stings, that many stings at once is often fatal. Wasp venom is not something to mess around with.
One type of wasp is especially tricky: yellow jackets. They develop their colonies underground, which is troublesome in two ways. First of all, you are probably dealing with a much larger colony than you think if you go by just what you can see on the surface. Second of all, because there is plenty of room to grow undetected, colonies can go to massive proportions. Southern yellow jacket colonies will even have multiple queens, and when you consider than one queen can produce up to 25,000 new yellow jackets per year, it is easy to realize just how many you could have attacking.
We have the expertise to handle wasp nest removal safely, and we can use products that will reduce the chance of a new infestation. We back up our wasp nest removal services with a one-year warranty because we are confident in the effectiveness of our methods. If you see wasps around your property, it is likely there is a nest and colony nearby. Don't risk your family and pets – we'll take a sting for you!

---
At BeeMan Stan Bee Removal, we offer wasp nest removal services for customers in Clearwater, St. Petersburg, Tampa, Orlando, Sarasota, Lakeland, Bradenton, Brandon, and Winter Haven, Florida.