Wasp Control, St. Petersburg, FL
A wasp attack is dangerous – call us for wasp control for your St. Petersburg property!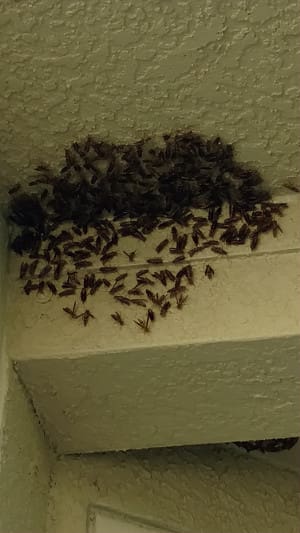 Wasp Control in St. Petersburg – Wasps are common problem in the St. Petersburg, Florida area. Our beautiful weather all year long gives them plenty of time to expand their nests and create new ones. On top of that, there is more than one type of wasp. Some of most common are yellow jackets and hornets. While these two have a great deal in common, one thing that is different is where they choose to build their nests. Our professionals at BeeMan Stan are experienced with wasp control and eliminating wasps from your property.
Hornets live predominantly in trees and shrubs, making them pretty easy to spot most of the time. If you see a hornet, you can be sure the nest is within 100 feet, so it may be on your property or on an immediate neighbor's. Hornets are social creatures, so they love huge colonies. It is not unusual to find a colony numbering in the thousands if they've gone undisturbed for a period of time.
Yellow jackets, on the contrary, prefer subterranean nests. They burrow into the ground, which allows them to develop massive colonies without you knowing it. One queen can produce up to 25,000 offspring in a year, and southern yellow jackets permit multiple queens in a single colony. The nest you see on the surface is only a small part of the colony. You may think your own wasp control methods will work, but you could end up being attacked by thousands of yellow jackets, as they are fierce defenders.
The safest thing for you to do if you notice yellow jackets, wasps or even bees, is to call us for our wasp control services. We'll take a sting for you!

---
At BeeMan Stan Bee Removal, we offer wasp control services for customers in Clearwater, St. Petersburg, Tampa, Orlando, Sarasota, Lakeland, Bradenton, Brandon, and Winter Haven, Florida.