We offer safe, effective beehive removal services, and you can count on us to eliminate your bee infestation without harming the colony.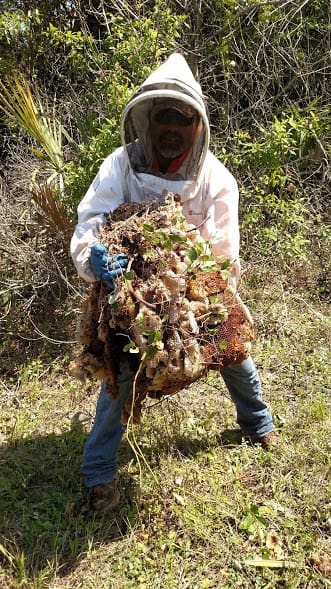 While most people acknowledge the important role bees play in our ecosystem, they still don't want to put up with these insects at close quarters. If you have a beehive on your property, you can turn to our team at BeeMan Stan Bee Removal for help. As our company name suggests, we have extensive experience in safely removing bees from homes and businesses, and we can relocate the colony to a more suitable location.
When you turn to our team for beehive removal services, you can count on us to get the job done right. Our team will first don our protective suits and then smoke the bees to calm them down and prevent them from attacking. Next, we'll open the hive and remove the queen, placing her in a box hive for relocation. Our experienced team members will then remove the honeycombs and place them in the box hive as well. Gradually, the remaining bees will follow their queen into the portable hive, abandoning their original one. As this happens, our team will thoroughly clean the area, removing all traces of honeycomb and honey, and we'll restore the affected area. We will also take all necessary steps to discourage more bees from taking up residence in your building in the future.
Our team is proud to serve the Lakeland, Florida community by providing beehive removal. If bees have established a hive in or around your home or business, just give us a call to get our beehive removal experts on the job.
---
At BeeMan Stan Bee Removal, we offer beehive removal services for customers in Clearwater, St. Petersburg, Tampa, Orlando, Sarasota, Lakeland, Bradenton, Brandon, and Winter Haven, Florida.