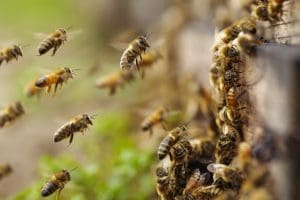 When you find a live beehive on your property, you want to remove it as soon as possible to prevent further damage to your home. Instead of trying to take care of the removal job on your own, there are several reasons why you should turn to us for pest services instead:
We offer a one-year warranty — On all of our pest services and cleanouts, we offer an impressive one-year warranty. If you run into a bee problem in the same location after we remove the hive, we will come back and redo the work free of charge.
We're experienced — We have been providing pest services in Florida for over 30 years. It is this experience that truly sets us apart and makes us one of the most sought-after bee removal providers in the area.
We know how to remove bees with minimal damage — When you find a beehive, you may wonder if it can be removed without doing considerable damage to your property. Our knowledge of roof structures, wall systems, and buildings in general allows us to eliminate beehives while doing minimal damage to the surrounding area.
We provide superior customer service — We care about your satisfaction, which is why we'll work hard to earn your trust when we provide bee removal services. If you have questions at any point, we'd be more than happy to answer them.