Call us for complete beehive removal at your Tampa property.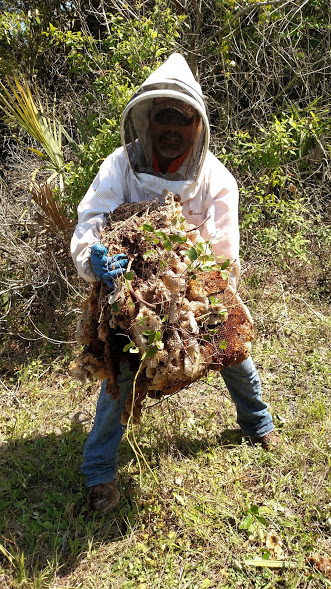 Bee Hive Removal in Tampa – Getting rid of bees at your Tampa, Florida property involves not only relocating the bees, but also removing the beehive. You do not want the hive to remain because it is unsightly and could possibly entice another swarm. At BeeMan Stan, we eliminate all sign of the bees and perform complete beehive removal. We are so confident that we provide a one-year warranty. Should bees return to the same location, we will take care of them for you at no extra charge.
We have a background in construction, more than 30 years in fact, so you can count on us to handle even those bees that have gotten behind the siding or in the soffits. We are able to take care of your beehive removal situation with minimal damage to your home and then restore anything that had to be disassembled.
We know you are concerned about the health of bee populations as we are, so rest assured that we relocate the bees rather than kill them. While some may be lost, unfortunately, that number is far less than with beehive removal companies that do not practice environmentally sensible methods.
If you believe you have a bee problem or see an active beehive, do not hesitate to give us a call. We'll take the sting for you! It can be a difficult job to deal with bees, but with our vast experience and passion toward bees, you won't have to take a chance of being swarmed or stung. We also take care of wasps, hornets, and yellow jackets.
Save the bees!
Honey bees are often the biggest nuisance because they like to build their bee hive in walls and roofs. However, honey bees are an important part of the ecosystem so it is important to always save the bees and relocate when possible. Fossil records have led scientists to believe that honey bees originated in Southeast Asia and then migrated to Europe. Today, honey bees are found all over the world and are frequently transported by beekeepers from one field to another to pollinate crops.  Honey bees will build a honeycomb to house their larvae and to store their honey and pollen. Within the first week, a honeycomb can weigh around three pounds and can continue to grow by up to a pound per day.  When honey bees build their hive in your house, it is important to remove the honeycomb in addition to just the bees. If the honeycomb is not removed, it could attract new swarms of bees. Bee Man Stan has removed honeycombs from under floors, water heater boxes, attics, and other unique areas. We always do our part to save the bees in Tampa.
Call or text (863) 944-1367 for bee hive removal in Tampa
We provide bee, wasp,and hornet removal in central and west Florida.
Choose your city below for more info:
Auburndale
Bartow
Bradenton
Brandon
Clearwater
Clermont
Dade City
Dunedin
Dundee
Kissimmee
Lakeland
Lake Wales
Largo
Mulberry
New Port Richey
Orlando
Palm Harbor
Plant City
Poinciana
Port Richey
Sarasota
Seminole
St. Petersburg
Sun City Center
Tampa
Wesley Chapel
Winter Haven
Zephyrhills
We offer professional, courteous service seven days a week and accept all forms of payments. Contact us today for bee hive removal in Tampa.