Licensed. Insured. State Certified.
Professional Bee and Wasp Removal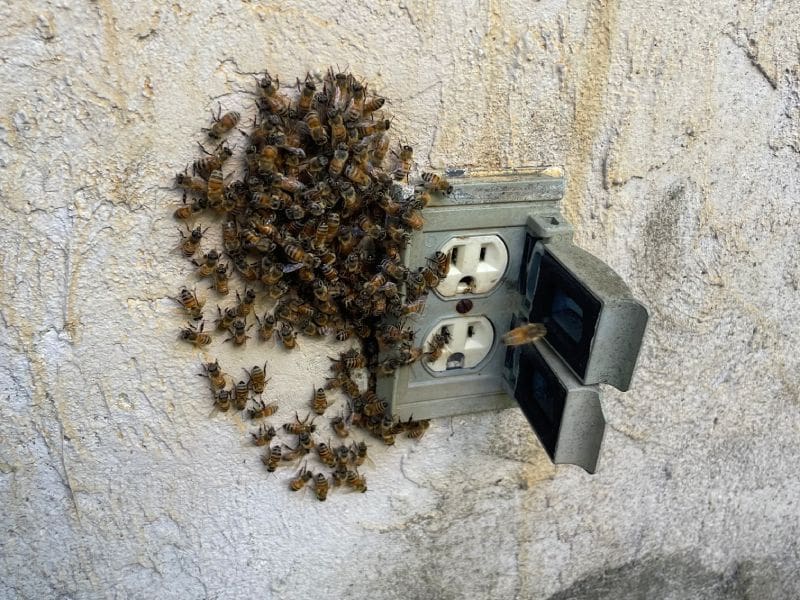 Rely on BeeMan Stan Bee Removal to take care of all your bee and wasp removal needs. We use safe, effective removal and treatment procedures to help ensure nests are relocated or safely removed. We offer competitive pricing and can complete most jobs within 24 hours, many within the same day.
Why Choose BeeMan Stan?
We offer a one-year warranty — On all of our pest services and cleanouts, we offer an impressive one-year warranty. If you run into a bee problem in the same location after we remove the bee hive, we will come back and redo the work free of charge.
We're experienced — 30 years of experience in construction combined with nearly a decade of bee removal gives Stan an advantage over the competition. It is this experience that truly sets us apart and makes us one of the most sought-after bee removal providers in the area.
We know how to remove bees with minimal damage — When you find a beehive, you may wonder if it can be removed without doing considerable damage to your property. Our knowledge of roof structures, wall systems, and buildings in general allows us to eliminate beehives while doing minimal damage to the surrounding area.
We provide superior customer service — We care about your satisfaction (take a look at our Google reviews!) which is why we'll work hard to earn your trust when we provide bee removal services. If you have questions at any point, we'd be more than happy to answer them. Contact us today for bee removal in Clearwater.
We work around the clock – Weekends, holidays, and after hour calls are not a problem for us. Call us right now and we WILL answer!
Certified and Insured — BeeMan Stan Bee Removal is a Certified Pest Control Operator exceeding all requirements from the Florida Department of Agriculture. We also come prepared with a strong liability insurance policy, providing you additional confidence when we are working on your property.
BeeMan Stan Bee Removal is licensed, insured, and certified by the Florida Department of Agriculture to practice bee removal in Clearwater, Saint Petersburg, Lakeland and surrounding areas. Please take a minute to check out our Google reviews and see what our customers have to say about us:




My husband had gotten stung five times in the last three weeks mowing the yard. First time in 31 years that had happened. He saw the source was coming from our front landscaping. So he went and bought two of the best cans of wasp spray ready to do battle. I was at work when my kids called and said, "Dad has been stung by wasps and he is in pretty bad shape." By the time I got home, I found him diaphoretic, vomiting, ashen in color and wanting to know when the ambulance was coming! He had sprayed the wasps and they came out like a cloud after him. He turned to run and tripped and fell. He was stung 14 times before he could get away. The ER docs said he was having a toxic reaction. He was a mess. While waiting in the hospital, we Googled all sorts of places. My daughter found BeeMan Stan. I texted him and called and left a message. It was Labor Day (I work as a nurse), but I was shocked when I got a call from Stan while we were in the hospital! He said my husband was very lucky. He would be out the next day! I was so grateful! He came out. He used chemicals, wore a complete suit and did his thing. He said the hole was 12" by 12", and there were eight combs inside it about the size of medium pizzas and about 8,000 yellow jackets! He told us that yellow jackets never lose their stingers and when attacked, they become very aggressive. My husband is very lucky and doing well now. And we were very lucky we found BeeMan Stan! I highly recommend him.
Honey bees are often the biggest nuisance because they like to build their bee hive in walls and roofs. However, honey bees are an important part of the ecosystem so it is important to always save the bees and relocate when possible. Honey bees will build a honeycomb to house their larvae and to store their honey and pollen. Within the first week, a honeycomb can weigh around three pounds and can continue to grow by up to a pound per day.  When honey bees build their hive in your house, it is important to remove the honeycomb in addition to just the bees. If the honeycomb is not removed, it could attract new swarms of bees. Bee Man Stan Bee Removal has removed honeycombs from under floors, water heater boxes, attics, and other unique areas. We always do our part to save the bees throughout Florida.
Contact us today for your bee removal needs!
Call BeeMan Stan Bee Removal at (727) 744-1527 for bee removal throughout central Florida
Bee removal available seven days a week and all forms of payments accepted.

 Contact us today for bee removal in Clearwater